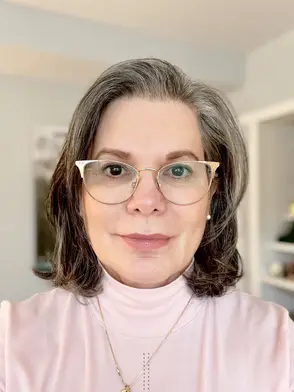 Carolina Rosales-Wyman, is a Licensed Clinical Social Worker. She is a Jungian-oriented psychotherapist, specializing in individual and couple therapy. She is currently an advanced candidate for the Analytical Psychology program at the C.G. Jung Institute of San Francisco. She has been trained in Emotionally Focused Therapy (EFT), Gottman method, and EMDR (Eye Movement Desensitization and Reprocessing). She maintains a private practice in Marin County, CA. She is fully bilingual (English/Spanish) and bicultural.
With over 20 years experience as a mental health provider, she is currently serving as private practitioner working with a broad spectrum of clients. One her areas of interest is working with culturally diverse individuals and couples.

Carolina is a relational, psychodynamic therapist. She integrates dreams and other forms of symbols and images in her work. With compassion and non-judgment, she works with each individual and couple to help them build on their strengths and attain the personal growth they are committed to accomplishing.

Carolina obtained her Bachelors in Social Work at the University of the Fraser Valley, British Columbia, Canada, and her Masters in Social Work at San Francisco State University in California.